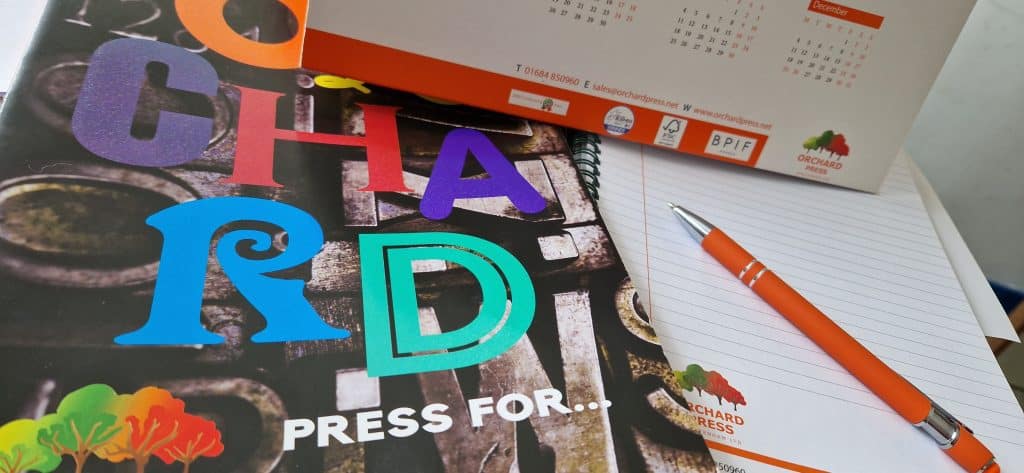 If you're in need of printing services, you may be tempted to go through a middleman or online marketplace. However, buying direct from a print company can offer numerous advantages, including lower costs, faster turnaround times and a personalised service that will exceed your expectations. Discover why this approach is the best choice for your printing needs.
Orchard Press is a family-led printing company in the UK that has been in business for almost 30 years, we have seen many changes in print, particularly trends and print buying habits. Most of our new customers have the same story: They have been let down by service, quality, or late delivery and are surprised by how simple the process is with us.
The benefits of working directly with Orchard for Printing Services:
Cost savings:
Buying directly through the print company cuts out unnecessary add-ons.
We can buy paper in bulk deliveries to save money on repeat print orders.
You will build up a great relationship with us that will benefit both parties.
A Personalised Approach: 
We understand that your brand is the most valuable intellectual property and always take a bespoke approach to a project that is placed with us.
We provide support and guidance to those clients who have little or no experience in purchasing print. Having experience with many sectors gives us the tools we need to help you.
Faster Turnaround Times:
You will have only one person as your point of contact to look after everything, from enquiry to final delivery, they will manage it all.
Your account manager will keep you updated on your job progress. Any changes in requirements are managed quickly and efficiently, without having to go through several contacts.
Our print knowledge means that we always recommend how to create the most economical formats, making in some cases huge savings (and less waste in the printing process) by tailoring designs accordingly to your specific project.
We handle all mailing and distribution including fulfilment when it's required. Having our own vans enables us to be flexible in delivery requirements.
Quality Control:
We have our own pre-press studio, where we are not only checking the files supplied to us, but we are here to advise on how to set up the artwork properly (including bleeds, spreads etc) and answer any queries you may have during the proofing stage.
We offer a wide range of printing techniques and effects to enhance your print.
Our award-winning business has been recognised for the consistent high quality we print.
We can advise you on carbon-balanced paper and use our FSC logo to enable you to show your environmental commitment.
So next time you place an order, please do consider your options, and see how going direct can give you a better experience overall!
Call us on 01684 850960, email sales@orchardpress.net or fill out a form on our contact page.
Summary of the Disadvantages of Working Through Print Management Companies
Many print buyers are using Print Management companies as they think this will be less hassle and more cost-efficient for their needs. This can be frustrating for printers as we have all the knowledge and expertise to deliver a better experience with a stronger understanding of your needs and requirements.
This way you have complete control of what gets printed and get to consult experts directly as well as not having to pay a 3rd entity that just acts as a middleman.
About Orchard Press
We do not use a big budget or resources to market our products and print services, because we have repeat business from satisfied customers and many referrals from those happy customers. We have almost 30 years of experience and have won awards for our print services. As one of a few B1 printers in the UK we can offer the most high-quality/luxury prints or we can scale it down to whatever meets your requirements and budget.