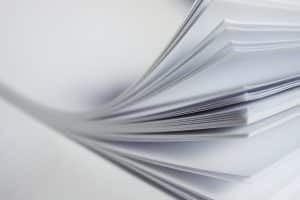 If you have a full colour brochure or any other document rich with photographs or illustrations, you'll get the most vibrant colours if you opt for a coated paper.
                                Whether you choose a gloss, silk or matte finish comes down to personal preference or may be led by the desired finish you want to achieve.
                                     We are happy to supply samples of different papers and finishes so you have a clear idea of how each combination will look.
             While uncoated paper can be used for full colour projects, the colours tend to be less vibrant and produce a natural, refined look.
            If your document is designed to be written on, uncoated paper will be the best option. This is why uncoated paper is the preferred paper type for business stationery.
             When choosing coated or uncoated papers, talk to us at Orchard Press about the desired effect you want to achieve with your print work. Think in terms of crispness and warmth, subtlety and vibrancy and economy and style.
                We can guide you in selecting just the right combination of inks, paper textures, finish and coatings and print techniques that make your print job do exactly what you want it to.