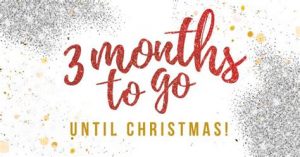 If you're looking to get into the Christmas spirit, Orchard press can help reflect the use of their marketing material printers.
Christmas is a tough time of the year in the design and print world, however, for designers, thi

s may not always be the case.
The saying "less is more" is never truer than at Christmas,
a time when we are often bombarded with over the top marketing material.

Whilst most of us want to spread the seasonal cheer in colourful and creative ways, we also must carry
a strong sense of corporate identity and remember not to stray too far from our brand identity.
We take a look at the best ways to create effective and engaging Christmas brochures.
1. Don't go to Christmas, bring Christmas to you
          There's always a big temptation to throw ourselves into a mix of red green and gold this time of year alongside a healthy
dose of glitter. More often than not, this is not a good idea. Instead of going straight into traditional Christmas colours and designs,
you should be trying to fit Christmas around your company. 
For example, use traditional shapes like decorations or stars and fill them with your own corporate colours.
This way, you are introducing Christmas in a subtle yet effective way.
2. White Space
             White space is even more vital at a time like Christmas because of the temptation to go a little overboard.
White space offers your client readability; it's practical and often aseptically pleasing.
In addition, white is a great match for traditional season colours like gold, silver and blue.
3. Pick a theme
If you aren't in a very specific business like the hospitality business or food business, then it may be worth considering picking a very
definite theme and running with it throughout both your brochure and other marketing material. A theme will help customers identify
you and your material easily and will limit what you can put inside a brochure, this means you won't be tempted
to go overboard and try to squeeze lots of different elements of the Christmas season into your brochure.
Something as simple as the theme of e.g. presents can be really effective.
4. Traditional V Modern
Everybody loves something new and fresh. However, Christmas is a nostalgic time of year. It's often said that Christmas begins when
the Coca-Cola advertisements begin. The Santa used in these adverts has been pretty much the same image since 1931with a few
touch-ups here and there. People identify with tradition at Christmas because it is a time of reflection.
Don't be afraid to use simple, traditional symbols of Christmas as they are often the most effective. Shapes are also a great way to create a Christmas brochure.
Using different shapes, you can communicate the season successfully and move away from traditional brochure shapes.
This is a fun, quirky and often eye-catching way to create a Christmas brochure.
Even if you don't have a Christmas brochure to produce you can still use a bit of 'magic' in your everyday printed material.

Ask us about samples for special effect Metallic papers and inks to really give your print that WOW factor.
Call or email Aggie for samples now on 01684 850960 or email aggie@orchardpress.net